The first GLTA Devil Aces Cup this past weekend was a phenomenal success. Three days of pure tennis magic organized by Christian Krause took place at the stunning Treptower Teufel Tennis Club in Germany, and boy, was it a spectacle!
It's All About Numbers
With an impressive 90 entries from 18 countries – yes, you heard right, EIGHTEEN – the competition was as fierce as it was diverse. Players jetted in from Germany, the UK, Switzerland, Spain, France, Argentina, Israel, Japan, the USA, Greece, Ireland, the Netherlands, the Czech Republic, Ghana, Poland, Singapore, Peru, and Italy to participate. The global representation was a sight to behold, and it wasn't just the tennis that had everyone talking!
The Categories of Play
Competitors battled it out in five different leagues: Open, A, B, C, and D. The Open category featured the crème de la crème of tennis players, while the other categories accommodated varying skill levels. All the matches were played with grit and grace, and the excitement in the air was contagious!
More than Just Tennis!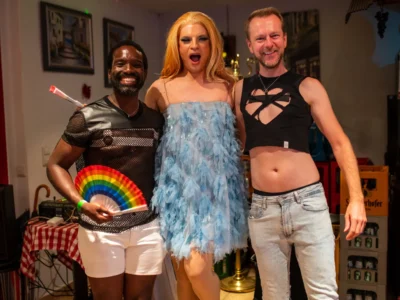 What sets the Devil Aces Cup apart is that it's not just about the tennis. Sure, there were astonishing volleys, mind-boggling serves, and heart-stopping rallies, but it was also about building bonds and having a blast. Players and spectators alike reveled in the parties, camaraderie, drinks, and, of course, unforgettable tennis.
One of the weekend highlights was the Saturday night players' party, where participants were treated to a sumptuous buffet and groovy music presented by the fabulous local drag queen, Anna Klatsche. The laughter and joy from that night could probably be heard miles away!
The Champions Crowned
Now, let's talk about the champs who stole the show. In the Singles Open, Jiri Skrivanek triumphed over Mára Mázl in a Czech showdown, while the dynamic duo of Cheicky Koita and Dirk Weichert claimed the Doubles Open.
In League A, the intense singles match between David Stephen Kinder and Robert James Berry was won by Kinder. For doubles, the trophies went to the fantastic pairing of Paul Ernst Pietraß and Christoph Schöneseiffen.
League B's singles title went to Sebastian Semella, with Adrian Biasca and Karl-Heinz Schröder clinching the doubles.
In League C, Christos Nikolaou was the star, taking home the singles title after defeating Ferdinand Dyck and partnering with him to win the doubles.
And lastly, in League D, Patrick Rettig-Palatá emerged victorious in singles, while Robert Eichs and Gianni Salamino dazzled the crowds by winning the doubles.
Looking forward
The GLTA Devil Aces Cup was a true celebration of tennis, friendship, and fun. The spirit of sportsmanship and the joy of coming together was heartwarming. To all the players, organizers, and fans, thank you for making it an unforgettable event. We can't wait to see what next year holds! One thing is certain, the Devil Aces Cup will return to Berlin in the early summer months of 2024.
» All results of the Devil Aces Cup 2023
» Follow us on Instagram
Pictures